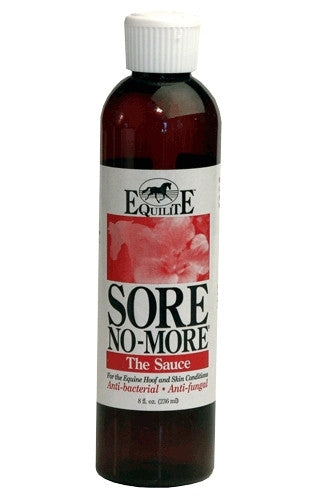 Sore No More- The Sauce
PRODUCT DESCRIPTION
Sore No-More® The Sauce is an anti-fungal and anti-bacterial liniment, providing soothing relief to troubled areas while also assisting in the healing of fungal or bacterial infections.
The Sauce is the first herbal sugardine dressing that is great at drawing out abscess. Simply mix with sugar to create a paste consistency and apply to hoof abscess as a packing.
Ideal to use on sore hooves as its liniment base helps reduce inflammation and discomfort.
The Sauce may also be used to help prevent hoof abscesses or bacterial and fungal infections on lower limbs if used on a regular basis.  
Sore No-More® The Sauce is one of the first topical analgesics that help in treating infections from bacteria or fungus while also reducing the inflammation associated with these conditions. The Sauce is made with herbal ingredients, making it a safer alternative to use with more sensitive horses. Use alone or mix with sugar to make a "sugardine" paste, a remedy used by many farriers to rejuvenate hooves from thrush, abscesses, bruising, soreness and other common hoof ailments.    Alone, it is also a safe alternative to use when addressing rain rot, scratches, sweet itch and other infectious, dermal conditions.